Forum Agenda
2018 Forum Format
Monday April 23rd
5pm - Welcome Cocktail Reception
Tuesday April 24th
8am to 12:30pm - Breakfast & Morning Sessions
12:30pm - Networking Lunch
1:30 to 5pm - Afternoon Sessions
6:30pm - Dinner Reception
Wednesday April 25th
8am - Breakfast & Sessions
11:30am - Finish Forum
TBD - Optional Afternoon/Evening Activity (optional)
---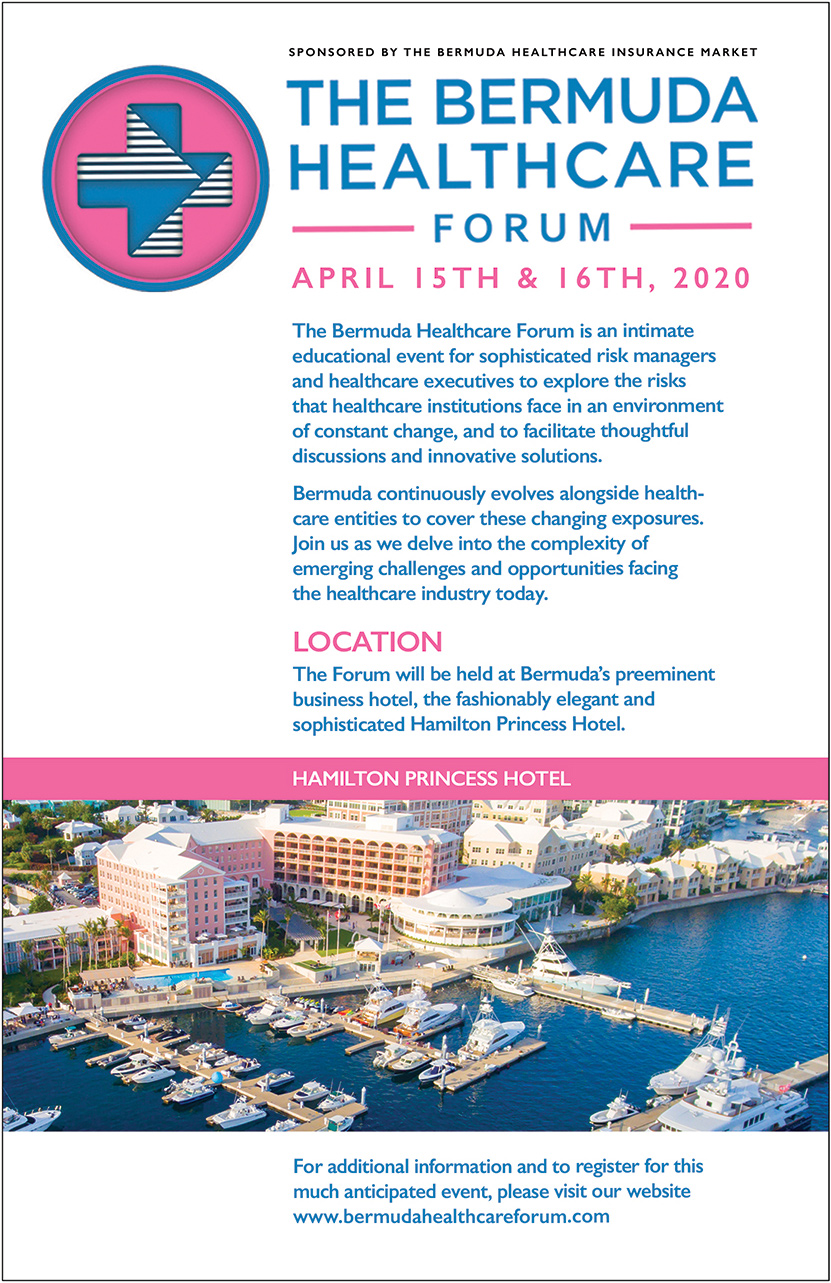 Click the image above to download The Bermuda Healthcare Forum Save the Date (PDF).
---
2018 Panelists & Moderators: To Be Announced
In the meantime, click here to download the agenda from the first annual Bermuda Healthcare Forum in 2017. You can also browse the list of panelists and moderators from last year's event below:
Eve Adamson
Vice President and Actuary, XL Catlin
Eve Adamson is a pricing actuary for XL Catlin's Bermuda Excess Liability and Healthcare insurance teams.
Eve's responsibilities include individual account pricing and price model parameter development. She has 15 years of insurance industry experience, including nearly ten years pricing casualty and healthcare business in the Bermuda market.
Eve joined XL Catlin in 2012. She previously worked as a pricing actuary for Endurance in Bermuda and Zurich in Minneapolis.
Eve is a Fellow of the Casualty Actuarial Society and holds a Bachelor of Arts in Statistics from the University of Minnesota.
Adam Bates
Vice President and Actuary, Allied World Assurance Company Ltd
Adam Bates serves as Vice President and Actuary at Allied World Assurance Company, Ltd., a subsidiary of Swiss based Allied World Assurance Co Holdings, AG. Adam is currently based in Bermuda and leads the actuarial pricing initiatives for Allied World's Bermuda platform. He is responsible for large account pricing, price monitoring, pricing tool development and managing a team that supports the Allied World Bermuda Healthcare Professional Liability portfolio. Adam has over 10 years of experience working directly with hospitals, brokers and underwriters in the excess insurance marketplace. In addition to his healthcare responsibilities, Adam also leads the actuarial function for the Bermuda Casualty and Professional Lines underwriting units and the company's North American Property segment.
Prior to joining Allied World in 2013, Adam led the Client Analytics initiative at BerkleyMed, a W.R. Berkley member company. At BerkleyMed, Adam was responsible for the marketing, development, and delivery of BerkleyMed's customized client analytics offering to brokers and clients.
Adam has a Bachelor of Science (B.S.) degree in Actuarial Science from Maryville University, in St. Louis, Missouri. He is a Fellow of the Casualty Actuarial Society (FCAS), and a Member of the American Academy of Actuaries (MAAA).
Sandy Boillot, CPA, ARM
Chief Financial Officer and Vice President, Risk, Ascension Care Management
Sandy Boillot, CPA, ARM is Chief Financial Officer of Ascension Care Management in St. Louis, Missouri, a subsidiary of Ascension Health Alliance ("Ascension"), the largest not-for-profit health system in the U.S. and the world's largest Catholic health system. Ascension Care Management serves more than 15,000 providers, 710,000 plan members and numerous governmental, commercial and self-funded payers through a suite of population health management services. Sandy is also Vice-President of Ascension Risk Services (ARS) which provides risk finance, risk mitigation and claims management for professional liability, executive risk and property and casualty programs for Ascension.
Sandy came to Ascension from Marsh, a leading insurance broker and risk adviser, where she served as Senior Vice President. Her 10+ years of experience with Marsh included consulting at a regional and national level with a focus on healthcare and captive insurance companies. Sandy has been a frequent speaker at insurance industry seminars on alternative risk financing and captive insurance company developments.
Sandy started her career as a Certified Public Accountant and was an Audit Manager with the accounting firm Ernst & Young. She holds a bachelor's degree in accounting from the University of Missouri-Columbia. She is a member of the Finance Advisory Board of the Robert J. Trulaske, Sr. College of Business at her alma mater.
Dr Ricky C. Braithwaite, PHD, MS, MSHS
Senior Health Economist, Bermuda Health Council
Dr. Brathwaite has 15 years of experience in healthcare economics research, health systems engineering and bioengineering. He currently supports domestic and international efforts to improve care quality and reduce costs through the evaluation of new payment and service delivery models. Dr. Brathwaite supports the development of OECD-based National Health Accounts, publication of fee schedules, feasibility of drug formularies, and comparative analysis of regional care costs. His analytic work includes review and statistical assessment of transaction level claims data generated from insurers and review of beneficiary data from federal programs for multiple subpopulation and health conditions. Recent support of the Centers of Medicare and Medicaid Services involves creating frameworks and justifying innovative concepts for improving care for fee-for-service, Medicare advantage, and part D enrolled beneficiaries.
Dr. Brathwaite has prior experience supporting the United States Department of Defense, Veterans Health Administration, Agency for Health Quality and Research, Social Security Administration, Food and Drug Administration and United States Department of Agriculture. Through these engagements, Dr. Brathwaite has operationalized his expertise in using population data to elicit individual preferences related to the use of cost-effective preventive and treatment services within the healthcare system; conducted requirements gathering and cost comparison evaluations of information technology systems; directed economic analyses in public health using national datasets to predict, calculated national disease burden estimates using advanced statistical software and econometric models on public use files; implemented quantitative and qualitative program evaluation frameworks for primary data collection; utilized multiple medical code sets to identify distribution of disease prevalence and service provision; conducted and presented research related to the social and environmental determinants of health based on regression analyses; and led data-driven bioengineering research primarily focused on cellular physiology for mediation of chronic diseases.
Education
Doctor of Philosophy in Health Economics (PhD), 2012, Johns Hopkins University (Baltimore, MD)
Master of Science in Health Systems/Industrial and Systems Engineering (MSHS), 2005 Georgia Institute of Technology (Atlanta, GA)
Master of Science in Bioengineering (MS), 2004, Georgia Institute of Technology (Atlanta, GA)
Bachelor of Science in Bioengineering (BS), 2001, University of Maryland (College Park, MD)
Selected Bibliography
Brathwaite, R. (2015) "Self Motivating Healthcare Utilization." International Health Economics Association World Congress. July 12-15, 2015. Milan, Italy.
Brathwaite, R. (2013) "Strategic methods for determining access to care and community health resources." APHA Annual Meeting & Exposition. November 2-6, 2013. Boston, MA.
Brathwaite, R. (2012) "Strategic methods for determining access to care and community health resources." NIH 2012 Science of Eliminating Health Disparities Summit. December 15-17, 2012. Washington, DC.
Brathwaite, R. (2012) "Understanding racial disparities in valuations of health and their impact on utilization." NIH 2012 Science of Eliminating Health Disparities Summit. December 15-17. Washington, DC.
Brathwaite, R. (2012) "Health Disparities". Facilitator. Agency for Healthcare Research and Quality Annual Conference 2012. September 9-11. Bethesda, MD.
A.R. Mangels, R.Brathwaite and C. Stahler (2010) "Do vegetarians and vegans stay vegetarian? Vegetarian Resource Group 2006 – 2009 survey." 2010 Food & Nutrition Conference & Expo (FNCE). November 9-10, 2010. Boston, MA.
Darren Cann
Senior Vice President, Aon Bermuda Ltd.
Experience
10 years of underwriting and broking experience for management liability products, 6 of which have been at Aon.
Darren has recently returned to Aon after underwriting at Allied World for the past 4 years. He co-led the D&O book and was also involved in all other management liability products, including Wage and Hour and Employment Practices Liability.
Darren's role with the Financial Services Group team in Bermuda is focused on value added initiatives and maintaining strong relationships with all Bermuda based carriers.
Martyn F. Chattey
Transaction Liability Practice Leader, Aon Bermuda Ltd.
Martyn Chattey is the Transaction Liability (TL) Practice Leader in Bermuda with expertise in structuring risk transfer solutions across: Tax Indemnity Insurance, Reps & Warranties, and Specific Contingent Risks. Martyn has international work experience in London and the US and leads the strategy and business development of TL. Martyn has been responsible for the creation of new TL markets, the global business in Bermuda, and the design and development of innovative new M&A insurance products.
Previous roles include: ML Sales Leader for the North American Region at Aon London, Chief Relationship Manager of the US Central Region at Aon London, and Founder of a Mobile Payments business. Martyn also served in roles within Professional Liability and Aviation. Martyn possesses a Law degree from The University of Reading having received an Academic Scholarship.
Scott Crockett
Counsel, Wagstaff and Cartmell, Claims Consultant to Endurance Specialty Insurance Co.
Scott Crockett is of counsel to the law firm Wagstaff & Cartmell in Kansas City, Missouri. He became a claims consultant to Endurance Specialty Insurance Co. in 2002 and joined Wagstaff & Cartmell in 2004 where he has continued his affiliation with Endurance. He advises Endurance about its healthcare and medical malpractice litigation exposures, evaluates, manages, and negotiates high exposure litigation and assists the underwriting team.
Scott joined Employers Reinsurance Corporation ("ERC") in 1987 where he enjoyed a fifteen year career. He was Vice President in charge of ERC's Healthcare Claims Department. Product lines managed within the Healthcare Claims Department included: Hospital Professional Liability (facultative reinsurance and treaty reinsurance); Medical Protective Insurance (physician professional liability insurance); Employer Stop Loss; Provider Excess; Worker's Compensation; and Disability Insurance. Prior to joining ERC he was in private practice with a firm specializing in defending medical malpractice cases.
Scott earned his Juris Doctorate at the University of Kansas in 1984 and his Bachelor of Arts degree at Washburn University in 1981. He is a frequent speaker at industry and client events.
Cheryl M. De Kleine, Esq.
Senior Director, Claims Management & Litigation Counsel, Ascension Health
Cheryl De Kleine, Esq. currently serves as the Senior Director, Claims Management and Litigation Counsel for Ascension Risk Services, Ascension Healthcare.
Ms. De Kleine has dedicated more than 19 years of her career working with healthcare providers and facilities in multiple states as well as consulting internationally. Prior to joining Ascension Healthcare, Ms. De Kleine held the position of Vice-President of Claims and Litigation for Stanford University Medical Network Risk Authority, LLC (The Risk Authority Stanford), as well as the Director of Claims and Litigation for Stanford Health Care and Stanford Children's Health. Ms. De Kleine also held positions within the professional liability insurance industry, which involved supervising claims in 13 states for a nationally known professional liability insurer. In addition to her insurance experience, she also served as a medical liability defense attorney representing physicians and hospitals through all phases of investigation and litigation. She also served as a law clerk for the Superior Court of the State of New Jersey and was privileged to be an adjunct professor teaching for 13 years.
Ms. De Kleine received her BA from Fairleigh Dickinson University and her JD from Seton Hall University School of Law. She is currently a member of the New Jersey Bar, as well as the U.S. District Court of New Jersey and is certified to appear before the U.S. Supreme Court. She is frequently invited to be a speaker for various organizations, including hospital associations, conference institutes, medical societies, and nursing leagues, and has also lectured at medical and nursing schools on topics of patient safety, risk management, claims and litigation best practices, and medical professional liability. She has consulted both nationally and internationally on the subject of early resolution programs.
Richard J. Donoghue
Senior Vice President for Strategy, Planning and Business Development, NYU Langone Medical Center
Richard (Rick) J. Donoghue, Senior Vice President for Strategy, Planning and Business Development at NYU Langone Medical Center (NYULMC), is responsible for the strategic initiatives of NYULMC which includes both NYU Hospitals Center and NYU School of Medicine. He is also responsible for the medical malpractice program and managed care contracting at NYULMC. Since his arrival in 1990, Mr. Donoghue has worked in a variety of positions including chief financial officer, chief information officer and head of the Merger Office, responsible for the integration of NYU Hospitals Center with Mount Sinai Hospital and the subsequent dissolution of that union. Rick is Chairman of the Board of Healthix, the largest RHIO in the country and serves on the Executive Committee of the New York eHealth Collaborative.
Prior to joining NYU Langone, Mr. Donoghue spent 16 years in consulting and public accounting, including five years as a partner with Ernst & Young. He has an MS and BBA from Adelphi University and is a Certified Public Accountant (CPA) and Certified Healthcare Financial Professional (CHFP). He served on the Healthcare Financial Management Association's National Principles & Practices Board, including three years as its chair. For the last 17 years, Mr. Donoghue has served as a technical editor for the Healthcare Financial Management Association's hfm magazine. He has also taught graduate courses in healthcare finance at University of Miami and Baruch Zicklin School of Business.
Mia Finsness
Excess Liability Claims Director, Markel Global Insurance
Mia Finsness is the Excess Liability Claims Director for Markel Global Insurance. In this capacity, Mia manages the claims for policies written out of Bermuda, Europe and the US for both Fortune 1000 and middle market companies and across various lines of business including healthcare, life sciences, heavy industry, oil & gas, transportation, products and construction. She also supports underwriters by drafting policy wording and helping effectuate new underwriting initiatives. Prior to joining Markel, Mia was a practicing attorney in New York at Clyde & Co LLP, where she worked with international liability insurers on London arbitrations and US coverage litigation, advised on complex coverage issues with respect to claims arising under professional liability, casualty and property insurance policies and also drafted policy wordings and advised insurance clients on regulatory matters such as sanctions compliance. Mia holds a bachelor's degree in History from Boston College, and law degrees from Oxford University and Columbia University. She studied international law at the Sorbonne in Paris and clerked at the European Court of Justice in Luxembourg prior to entering private practice in New York.
Chen Foley
Vice President – Claims and Coverage, Iron-Starr
Chen Foley joined Iron-Starr® on May 2, 2016 as Vice President – Claims and Coverage. Chen is an experienced attorney having qualified as a barrister in England and Bermuda. He previously worked with Sedgwick Chudleigh (the Bermudian affiliate of Sedgwick LLP) advising (re)insurers and commercial clients on matters relating to insurance coverage and dispute resolution. In addition to working with Sedgwick Chudleigh, Chen spent 4 years working in the London insurance market with Sedgwick LLP's UK office. Chen was awarded a Bachelor of Arts in Political Studies from Queen's University in Kingston, Ontario, Canada, and earned his Bachelor of Laws (Honours) at Queen Mary College, in London, England. He completed the Bar Vocational training at BPP Law School, also in London, and was called to the Bar of England & Wales at the Honorable Society of Lincoln's Inn. He's a bad Arsenal fan, and would probably have become an airline pilot hadn't become a lawyer.
John E. Hall, Jr., Esq.
Hall Booth Smith, P.C.
John E. Hall, Jr., is one of the founding partners of Hall Booth Smith, PC. He specializes in the defense of high exposure cases, involving hospitals and medical malpractice claims. He manages and handles high exposure cases in over 20 states as National Counsel for several Insurers, Companies and Hospitals. He has extensive litigation experience, having tried in excess of 100 civil cases. Mr. Hall is licensed in Georgia, Tennessee and Alabama.
Mr. Hall has received several awards including: Super Lawyer; Insurance Man of the Year; The Best Lawyers in America, and peer rated AV with Martindale Hubbell. He was one of the founders of USLAW Network, now an international confederation of over 6400 attorneys. He is past Chairman of the organization.
Rebecca Havlisch, R.N., J.D.
Vice President, Business Health, Banner Health
Rebecca Havlisch joined Banner Health as their Vice President of Business Health in July of 2014. She is responsible for all aspects of their corporate risk management program, including loss prevention, workers' compensation, employee health and safety, risk financing and claims management programs. Her role extends beyond the corporate risk and safety programs to security, emergency management, environmental health and safety, and privacy/HIPAA.
Ms. Havlisch, who began her career as a staff nurse in newborn intensive care at the University of Minnesota Hospital and Clinics, has been employed in the field of health care risk management and health law, since 1987, when she obtained her Juris Doctor degree from William Mitchell College of Law in St. Paul, Minn. Throughout her risk management career, she has worked for multi-state integrated delivery systems and has had a great deal of experience consolidating risk management programs in recently merged and/or rapidly growing not-for-profit systems. In recent years, she has focused on bringing concepts of enterprise risk management and health productivity and wellness to health care operations.
Ms. Havlisch is a member of the American Society of Healthcare Risk Management (ASHRM), serving on several of that association's task forces over the years. She has also a member of the American Health Lawyers Association and RIMS.
Mark R. Karlson
Managing Director, Marsh
Current Responsibilities
Mark Karlson is the Practice Leader of our US HealthCare Industry Practice. During his 28 years at Marsh, Mark has held several roles including HealthCare National Practice Leader for FINPRO, regional FINPRO manager, broker, and client executive. His expertise includes all forms of health care related insurance products. Throughout his career, Mark has spent a significant portion of his time working with health care clients including managed care companies and health care providers. In 2008, Mark was named the HealthCare National Practice Leader for FINPRO; in August of 2016, he was named US HealthCare Practice Leader.
In his role current role, Mark is responsible for the national delivery of health care knowledge and expertise to Marsh clients in this dynamic industry. He is responsible for overseeing the entire national HealthCare Practice including providing clients with advice regarding risk exposures, emerging trends, insurance markets, and insurance placements. Mark also continues to lead client brokerage activities for large health care accounts.
Experience
Mark has extensive experience helping clients tailor their risk transfer programs based on their specific risk characteristics and objectives. Mark has worked with many large managed care companies, helping them tailor their coverage to match the evolution of risk within the various managed care business models. Similarly, he has worked in the same capacity with hospitals and other providers across the country as they navigate the liabilities associated with evolving business models.
Mark's expertise includes the use of the US domestic, London, and Bermuda risk transfer markets, the use of captives, the use of self-assumed layers within large program structures, large class action and single plaintiff claims, loss control efforts, and manuscripting policies.
Mark joined Marsh in 1989. Before joining Marsh, he worked as an underwriter.
Education
BA: Double major in religion and American history, Williams College
Affiliations
Chartered Property Casualty Underwriter (CPCU)
Associate in Risk Management (ARM)
Licensed Insurance Broker in CT, NY, RI, VT, NH, MA, ME, PA, MN, VA, IN
Tim Kenny
Senior Vice President, Bowring Marsh (Bermuda) Ltd.
Tim Kenny Senior Vice President, Bowring Marsh (Bermuda) Ltd. as the Claims and Coverage Practice Leader/Compliance Officer in August 2006. In this role, Tim acts as a liaison between our clients and the Bermuda Markets when dealing with complex coverage and claims issues, is responsible for answering our clients' Bermuda-related coverage and claims issues, is responsible for answering our clients' Bermuda-related coverage and claims questions, and assists our clients in reporting, handling and collecting on claims across all lines of coverage involving the Bermuda Markets. In addition, Tim is responsible for coordinating compliance and professional standards for the Bermuda office; liaising closely with professionals in the U.S. to ensure adherence to current protocols pertaining to transparency and disclosure and ensuring that Bowring Marsh (Bermuda) Ltd. Is compliant within the Bermuda insurance environment.
Letha S. Kramer
Vice President, Chief Risk & Corporate Integrity Office for The Carle Foundation in Urbana, Illinois
Letha S. Kramer, JD, CPHRM, is Vice President, Chief Risk & Corporate Integrity Office for The Carle Foundation in Urbana, Illinois and has worked for Carle for 14 years. She is responsible for running Carle Risk Management Company ("CRIMCO"), which includes Risk Management, Patient Relations and Workers' Compensation. CRIMCO provides claims, risk and insurance management services to Health Systems Insurance, Ltd ("HSIL") a captive insurer. HSIL provides professional and general liability insurance for the Carle organizations including Carle Physician Group, Carle Hoopeston Regional Health Care Center and Carle Foundation Hospital. In addition to her responsibilities for CRIMCO, Ms. Kramer is responsible for Compliance, the Medical Staff Office and Enterprise Information Security.
Ms. Kramer is a graduate of Eastern Illinois University with a Bachelor of Arts in communication. She attended law school at Indiana University School of Law in Indianapolis, Indiana. During and after graduation from law school, Ms. Kramer worked for the nationally recognized health care law firm of Hall, Render, Killian, Heath & Lyman, P.S.C. in Indianapolis, Indiana. As a practicing attorney, Ms. Kramer's focus was on health care law in general and, in particular, medical malpractice defense. Ms. Kramer represented hospitals and physicians throughout the State of Indiana in court and before the Indiana Medical Licensing Board.
Ms. Kramer has been a Certified Professional in Health Care Risk Management ("CPHRM") since 2004 and is a member of the American Society of Healthcare Risk Managers, Illinois Society of Healthcare Risk Management (currently serving as past-President), the Illinois Association of Healthcare Attorneys, and the Health Care Compliance Association.
Ms. Kramer is a faculty member with the Institute for Healthcare Communication and is certified to teach the course on Disclosing Unanticipated Outcomes and Medical Errors. Ms. Kramer regularly teaches courses to nursing students on legal issues in nursing and enjoys the various opportunities she has to talk with physicians, nurses and other health care providers about risk management, compliance and ethics.
Cheryl Lloyd
Associate Vice President and Chief Risk Officer of the University of California
Cheryl Lloyd is the Associate Vice President and Chief Risk Officer for the University of California system. Cheryl is an experienced Risk Manager with over two decades of experience, of which 18 years have been with the University of California. As AVP & Chief Risk Officer, Cheryl oversees a myriad of programs for UC's medical centers, varied global research activities and safety and health programs for students, faculty and staff.
Major initiatives and programs for the department of Risk Services include implementing Enterprise Risk Management (ERM) throughout the University, reducing the overall cost of risk, implementing systemwide safety and loss mitigation programs, improving claims management systems, and developing risk financing strategies. Cheryl also has oversight of the University's Environment, Health and Safety programs (EH&S), Business Continuity programs, Emergency Management and travel and risk security programs.
Cheryl also serves as President of Fiat Lux, the University's wholly owned captive insurance company.
Cheryl began her career in the insurance and risk industry with Chubb Insurance. Before joining University of California in 1998, she was the corporate risk manager for Core-Mark International.
Cheryl has a dual degree in Mass Communications and Sociology from U.C. Berkeley.
Simon Mawer
Program Manager, Risk Strategy and Design, The Risk Authority Stanford
Simon serves as program manager of risk strategy and design for The Risk Authority Stanford–the risk services and design consultancy for Stanford Medicine and clients globally.
A frequent speaker and writer on the applications of design thinking and decision analysis for healthcare risk management, Simon's expertise is leveraging analytical and people-centered approaches to assist healthcare clients in addressing the most compelling risks facing their patients, clinicians, and organizations. As director of Stanford's DARTS program, Simon consults with liability risk managers across the USA to make high-quality litigation strategy and loss reserves decisions on their toughest cases.
Simon received his Bachelor of Laws degree from the University of Technology, Sydney and is admitted as Lawyer to the Supreme Court of New South Wales. His is also a graduate of Stanford University's Strategic Decisions and Risk Management, and Innovation and Entrepreneurship programs.
Simon is an avid adventurer, coffee aficionado, lover of all things Australian, and proud husband to his wife, Michelle.
William J. McDonough, MPAH, ARM, FASHRM
Managing Principal, Executive Broker, Integro
More than 25 years of experience in risk management consulting and risk financing design for healthcare clients, including integrated delivery systems, physician groups, managed care organizations and clinics. At Integro, Bill develops and implements risk financing programs and risk management programs that support clients' business objectives. He also provides consulting and advisory services to healthcare clients with primary focus on alternative risk financing, professional liability management and loss prevention.
Education
Doctor of Philosophy (ABD), Health Law and Policy, Northeastern University, Boston, Mass.
Masters in Public Administrative Health, Suffolk University, Boston, Mass.
Certificate in Advanced Financial Management, Harvard University, Cambridge, MA
Bachelors of Science, University of Miami, Coral Gables, Florida
Holly Meidl, ARM, MBA
Senior Vice President, North American Healthcare, Allied World Assurance Company Ltd
Holly is Senior Vice President, North American Healthcare for Allied World Assurance Company, Ltd. In this role, Holly is the practice lead for the division, responsible for all healthcare insurance products and underwriting for Allied World's operations across the United States and Bermuda. She also oversees all risk management and loss control services in support of Allied World's insurance offerings in those areas. Prior to joining Allied World, Holly was Managing Director, National Healthcare Practice Leader for Marsh, Inc.
Holly has published numerous articles and brochures regarding risk issues in healthcare and is often sought as a speaker, panelist and subject matter expert for local and national conferences, live broadcast webinars and industry periodicals, for organizations such as A.M. Best, the Insurance Managers Association of Cayman, the American Society for Healthcare Risk Management (ASHRM) and the Risk & Insurance Managers Society. Holly is an active member of ASHRM and the Healthcare Financial Managers Association.
Holly obtained her BBA degree from the Terry College of Business at the University of Georgia (UGA) with a focused major on Risk Management and Insurance. She completed her MBA at Golden Gate University, San Francisco, where she was named the Outstanding Graduate in the School of Banking and Finance. Holly has served six years as a board member for the Terry College at UGA where she chaired the Terry Professional Women's Conference. Now as a Terry Emeritus board member, she acts as an advisor for the UGA Risk Management & Insurance degree program, and has served in the same role for the Owen School of Business, Masters in Health Administration degree program at Vanderbilt University.
Kimberly Morgan, ACII
Senior Vice President & Healthcare Practice Leader, Sompo International
Kim is a Senior Vice President and Leader of the Bermuda Healthcare Practice. She has 24 years of industry experience, including twelve years as an Underwriter with Endurance. Prior to joining Endurance in January 2003, she was a Broker with J&H Intermediaries and subsequently Marsh in Bermuda, as well as London.
Kim is a graduate of Tufts University, Ma. and is an Associate of the Chartered Insurance Institute (ACII) in the U.K. She is also a past President of the Bermuda ASHRM Chapter, BSHRM.
Mary Ellen Nepps, Esq.
Senior Counsel, University of Pennsylvania
Mary Ellen Nepps is Senior Counsel for Claims and Risk Management for the University of Pennsylvania Health System. In her role as Senior Counsel, Ms. Nepps manages the professional liability litigation for the Health System and oversees the Health System's risk and claims management programs. She came to the Health System in June 1997 with 13 years of health care related litigation experience. Prior to working at Penn, she was a shareholder in the Philadelphia law firm of Christie, Pabarue, Mortensen and Young, P.C. where her practice focused on medical malpractice, health care benefits, and other health care related litigation.
Ms. Nepps is a member of the Philadelphia, Pennsylvania, and American Bar Associations. She served as chair of the 5,000 member Young Lawyers Section of the Philadelphia Bar Association in 1992 and was a member of the Association's Board of Governors. She also served as a member of the Pennsylvania Bar Association's House of Delegates and previously chaired the Association's Health Care Law Committee. She also served as a member of the American Bar Association House of Delegates. In addition, Ms. Nepps was a founding member of the board of directors for the Legal Clinic for the Disabled, Inc. Ms. Nepps is a member of the Hospital and Health System Association of Pennsylvania's Medical Liability Task Force.
Ms. Nepps has lectured on health care law related topics at the University of Pennsylvania Perelman School of Medicine, The Wharton School at the University of Pennsylvania, and for the Dispute Resolution Institute. She also has been a presenter at ID Week 2014 and 2016 as well as the Society for Healthcare Epidemiology of America Spring 2016 Confernece on the topic of antimicrobial stewardship liability issues.
Ms. Nepps is a graduate of St. Joseph's University (B.A., summa cum laude, 1981) and the Cornell Law School (J.D., 1984). She is admitted to practice in Pennsylvania and New Jersey.
Gisele Norris, DrPH
Managing Director, Aon Health Care West
Experience
For the past 18 years, Gisele has provided strategic consulting and risk advice to some of Aon's largest and most complex health care and life science accounts. Her Aon career began in Latin America, where she worked with Aon colleagues to build a robust Latin American health care practice. Today, Gisele leads Aon's Health Care Practice in the Western United States. In this capacity, she assists Aon colleagues to provide innovative solutions to health care and life science entities. Gisele also provides direct, strategic risk consulting and brokerage advice to select institutions, such as McKesson and Stanford Health Care. As Aon's sole epidemiologist, she is also called upon to provide counsel to diverse industries regarding prevention and mitigation of infectious disease risk and was a leader in Aon's company-wide pandemic task force in 2009 and Ebola task force in 2014.
Education / Professional Designations / Affiliations
Gisele received her BA from the University of California at Berkeley in 1988; Master of Public Health and Master of Public Administration degrees from Columbia University in 1994; and a Doctorate in Public Health (with specialties in epidemiology and health policy) from the University of California at Berkeley in 2000. Gisele is fluent in Spanish and proficient in French.
Susan Pateras
Senior Vice President, Healthcare Practice Leader, Iron-Starr
Susan Pateras is Senior Vice President, Healthcare Practice Leader with over 20 years' experience in the Healthcare Industry. Susan joined Iron-Starr Excess Agency Ltd. in April 2013. Formerly she served as a Senior Vice President at Integro Bermuda Ltd., where she developed Integro's Bermuda Healthcare strategy as well as coordinated global placements with U.S., London, and Europe participation. Susan has specialized knowledge of university teaching facilities, specialty pediatric hospitals, managed care organizations, long term care, integrated delivery systems, physician group practices, and other healthcare risks. With experience in London, New York, and Bermuda, Susan has worked with all major healthcare markets and PIAA companies. Prior to joining Integro, Susan served as a Senior Vice President with Willis Bermuda Ltd. and also served as a Vice President in Marsh New York's Global Broking Healthcare Unit. Prior to this, Susan gained her underwriting experience with Zurich and St. Paul Insurance Companies. Susan is a graduate of Temple University with a BA in Risk Management Insurance and Business Law.
Iain Percy
Iain Percy OBE, a double Olympic and multiple world champion, is one of the most talented and successful sailors in the world. Iain has a remarkable Olympic pedigree, winning gold in the Finn class at the Sydney Olympics; before teaming up with lifelong friend Andrew 'Bart' Simpson to win gold at the 2008 Beijing Olympics and silver at the London 2012 Olympic Games.
Iain had his first taste of America's Cup action in 2005 as helmsman for +39 Challenge, and was part of Great Britain's America's Cup challenge, Team Origin. He joined Artemis Racing at the end of 2012 as tactician, following the London Olympics. After showing inspirational leadership qualities during the difficult final few months of the 34th America's Cup campaign, he was appointed Team Manager in October 2013. Iain is now responsible for leading Artemis Racing's challenge for the 35th America's Cup.
Katrina Percy
Katrina joined the UK's National Health Service over 20 years ago as a graduate management trainee and since then has worked in all sectors of the health service, including two years working internationally running a hospital in Tanzania. She has been in a CEO role for nearly 10 years, delivering financial and operational turnaround of services, innovative change programmes and system wide transformation. She has also delivered two successful mergers and is a national leader in the future models of care for the NHS. Since leaving her CEO role she has set up a bespoke consultancy and advisory business.
Katrina is a regular speaker on the future options and challenges facing health services and how to deliver these. Katrina is particularly passionate about leading organisations through transformational change and has been instrumental in the development of a leadership development and culture change programme at Southern Health which in 2013 won a Guardian Healthcare Innovation award.
In 2012 Katrina was named as Health Service Journal (HSJ) Chief Executive of the Year and was named among the HSJ's 50 Inspirational Women in Healthcare.
Peter Robinson
Specialty Reinsurance Practice Leader, Integro Insurance Brokers
Peter's 30 years of experience in insurance and reinsurance spans the Healthcare, Alternative Risk, Public Entity, and Accident and Health reinsurance sectors. Peter leads Integro Re, the specialty reinsurance division of Integro. He and his team provide reinsurance intermediary, analytics and risk advisory services specializing in comprehensive and innovative insurance and reinsurance risk transfer solutions in Healthcare and other specialty sectors, bringing a client-centered, entrepreneurial focus to an industry in transition.
Peter's prior experience included management positions at JLT and AON insurance brokerage firms in both London and the US. Peter led the management team which formed Aon Managed Care Risk and Insurance Services and Presidio Excess Insurance Services, as well as Aon Re Accident and Health. In 2003, Peter founded Reinsurance Advisory Services (RAS), a risk advisor and reinsurance intermediary focused on healthcare. In 2010, Integro acquired RAS, allowing Peter to bring his experience and knowledge to the firm.
Dianne P. Salter
Vice President of Insurance, Jefferson Health
Ms. Salter has over 25 years of insurance experience in the insurance industry. Prior to the restructuring of Jefferson Health System (JHS) in June 2014, Ms. Salter was the Executive Vice President, Insurance Services for JHS and its Member Organizations. Before joining JHS in September 2002 she was a Managing Director for Marsh, Philadelphia in the Client Service area. At Marsh, Ms. Salter provided brokerage, risk management consulting, and account management services focusing on large healthcare clients. An area of significant expertise was in the creation of alternative risk financing vehicles (trusts, captives, risk retention groups) for healthcare clients to fund their medical malpractice and general liability losses.
Currently, as President of the Insurance Companies Ms. Salter has overall responsibility for the management and operations of Mountain Laurel Risk Retention Group and Five Pointe Professional Liability Insurance Company now owned by Thomas Jefferson University/Hospital (TJU), Main Line Health(MLH) and Magee Hospital(Magee). She is also responsible for the development and ongoing monitoring of the claims and risk management guidelines/best practices established by the Board of the Mountain Laurel Risk Retention Group for the insureds in the program.
In addition, she is responsible for the purchasing and administration of any and all of the property, casualty and executive risk insurance coverages placed for TJU, MLH, Magee and the ACO of Southeastern Pennsylvania. This includes the analysis of commercial and self-insurance options and the investigation of cost effective risk financing alternatives.
She is the past Chair of the board of the Vermont Captive Insurance Association and is a board member of St. Joseph University Academy of Risk and Insurance and current Chair of the board of the Insurance Society of Philadelphia. Ms. Salter has a BS from the University of Delaware and a MBA in Finance from La Salle University.
Ted Schlert
Senior Vice President, Enterprise Risk Management and Chief Risk Officer, Hackensack Meridian Health, Inc.
Ted Schlert currently serves as the Senior Vice President, Enterprise Risk Management & Chief Risk Officer at Hackensack Meridian Health, Inc. Hackensack Meridian Health is a leading not-for-profit health care organization that is the most comprehensive integrated health care network in New Jersey. HMH includes a complete range of medical services, innovative research and life-enhancing care. HMH comprises 13 hospitals, including two academic medical centers, two children's hospitals and nine community hospitals, physician practices, more than 120 ambulatory care centers, surgery centers, home health services, long-term care and assisted living communities, ambulance services, lifesaving air medical transportation, fitness and wellness centers, rehabilitation centers, and urgent care and after-hours centers. Hackensack Meridian Health has 28,000 team members, more than 6,000 physicians and is a distinguished leader in health care philanthropy, committed to the health and well-being of the communities it serves.
Reporting to the Executive Vice President & General Counsel, Hospital Enterprise, Mr. Schlert's responsibilities include developing Hackensack Meridian Health's strategic Network initiatives in Enterprise Risk Management; Risk Finance; Team Member Safety & Workers' Compensation; Environmental Health & Safety and Security. As a member of Hackensack Meridian Health's Executive Leadership Team Mr. Schlert regularly interfaces with Governance and Leadership at both the Hospital & Diversified Health enterprises; Captive insurers; Medical Staff Leadership; and other leaders within Hackensack Meridian Health.
Prior to joining Hackensack Meridian Health, Mr. Schlert served as Senior Vice President & Chief Risk Officer at Meridian Health System, Neptune, NJ. Prior to joining Meridian, Mr. Schlert spent 26 years at Eastern Mercy Health/Catholic Health East, Newtown Square, PA where he served as Vice President & Chief Risk Officer from 1987 until CHE's merger with Trinity Health in May 2013. Post-merger Mr. Schlert served for a year as Vice President, Risk Services Integration for the merged enterprise.
In addition to the above, he has also served as the Risk Management leader at a Philadelphia based university & Academic Health Center and was Vice President, Health Care Services Health Care Industry at a national insurance brokerage firm.
Mr. Schlert serves or has served on the Board of Directors of both Bermuda and Cayman domicile captive insurers as well as a domestic Medical Professional Liability insurer.
Mark Simons
Senior Vice President, Bowring Marsh
Mark is a Senior Vice President is a responsible for the Bermuda office's sales function as well as broking FINPRO product lines. Prior to joining Bowring Marsh in September 2010, Mark was Head of Broking at HSBC Insurance Management Bermuda. Mark's career has spanned 23 years; from 2004 to 2009 he held senior management and board level positions at JLT Park Ltd. and its predecessor company Park Bermuda Ltd. Prior to joining Park, he was Financial Lines Manager at STARR Excess Liability Insurance International (AIG), responsible for a large portfolio of financial and professional lines accounts. Prior to joining Starr, Mark spent five years at Aon (Bermuda) Ltd. where he was a Vice President specializing in broking financial lines accounts. Mark started his career in 1989 with Bowring (Bermuda) Ltd., a subsidiary of Marsh; there he was involved in the placement of General Liability business into the Bermuda Market. Mark graduated Cum Laude from American International College in Springfield, MA where he attained a Bachelor's Degree in Business Administration majoring in Management.
Dr. Dan Sullivan, MD, JD, FACEP
President and Chief Executive Officer, The Sullivan Group
Dr. Sullivan is the President and CEO of The Sullivan Group, a medical risk management and patient safety organization. Dr. Sullivan is a board certified Emergency Medicine physician and a Fellow in the American College of Emergency Physicians (ACEP). He is a Past President of the Illinois College of Emergency Physicians and is an Associate Professor of Emergency Medicine at Rush Medical College.
Dr. Sullivan obtained a legal degree in 1989, and has used his dual background to study patient safety issues and create programs, services, and solutions to reduce medical errors and reduce risk in the practice of medicine. He teaches risk and safety nationally to emergency physicians, including regular presentations at the American College of Emergency Physicians' Scientific Assembly and the Emergency Department Directors Academy.
Over the last 15 years, Dr. Sullivan's risk and safety tools and training have touched tens of thousands of physicians and nurses, and currently impacts over 20,000,000 patient visits each year.
Ian Thompson
Head of Casualty and Specialty, Ascot
Ian has almost 25 years' experience in Casualty and Specialty, much of it focused on the Healthcare Sector. With London Market, US and Bermuda experience, he has worked as both Broker and Underwriter (Catlin, Endurance and Hiscox). At the beginning of 2017, he was instrumental in moving the group to Ascot to start a new venture, and leads the team. He lives in Paget, Bermuda with his wife and four children.
Denise Watkins
Senior Vice President, Endurance Insurance
Denise is a Senior Vice President and joined Endurance Insurance in December 2011. She has 18 years of underwriting experience and prior to joining Endurance, Denise worked for AIG in both their lead and excess casualty divisions and transferred from New York to Bermuda in 2007. While at AIG in Bermuda, Denise was appointed the Healthcare and Life Science specialist and participated on the Lexington Healthcare Steering Committee. Prior to AIG, Denise completed the Insurance and Underwriting Leadership Development Program with Travelers and worked as an Account Executive in Commercial Accounts underwriting package policies for mid-sized businesses. She has a bachelor's degree in Risk Management and Finance from the University of South Carolina and has earned her Chartered Property & Casualty Underwriter (CPCU) and her Registered Professional Liability Underwriter (RPLU) designations. Denise is a past President of the Bermuda CPCU Chapter.
Ross Webber
Chief Executive Officer, Bermuda Business Development Agency
Ross Webber joined the BDA as CEO in 2014, having served as a Board Director since inception. Under his tenure, the BDA has achieved business development successes across multi-industry sectors, including new company formations, job creation and five consecutive quarters of national GDP growth. The agency has also won strong support from government, regulatory and corporate stakeholders. Notably, Ross has been a strong advocate overseas for the jurisdiction's blue-chip reputation, compliance and transparency. A former permanent secretary for the Bermuda government's Ministry of Economic Development, Ross was previously head of global marketing and business development for international law firm Conyers Dill & Pearman. He holds an MBA in Insurance and Financial Risk Management from St. John's University, New York, and is a member of the Institute of Directors (MIoD).
Kenneth E. White
National Managed Care Practice Leader, Willis Towers Watson
Relevant Experience/Specialization
Kenneth ("Kenny") is the National Managed Care Practice Leader in the National Health Care Practice. Prior to joining Willis Towers Watson, Kenny was a trial attorney specializing in health care for 28 years. His practice included claims related to professional liability, ERISA, beneficiary/provider healthcare benefit claims, disciplinary and regulatory matters, life, health and disability insurance coverage claims and other health care related matters. He has extensive experience representing health care payers and providers in all aspects of health care litigation at the federal and state levels, including class action and mass tort litigation. He has extensive experience and knowledge of the legal, regulatory and business structure and economic underpinnings of the payer industry.
Role at Willis Towers Watson
Kenny is a subsector leader in the Willis Towers Watson National Health Care Practice serving as National Managed Care Practice Leader. In this role, Kenny provides policy language and coverage review, evaluation and alteration to fit the risks and exposures of Willis clients. He provides coverage and claims assistance, industry insight and information related to trends and solutions for managed care to internal Willis associates, markets, clients and prospects. As part of the National Health Care Practice, Kenny collaborates with other subsector leaders and FINEX, Willis Re, and the Employee Benefits and Captives practices to identify risks and build solutions for Willis clients. His expertise is in risk identification, management and amelioration/mitigation, and the legal financial and coverage challenges faced by managed care organizations, "hybrid MCO's" and health care systems.
Kenny is a frequent speaker at regional and national conferences/seminars/webinars related to health care in general and the payer industry. He has authored a number of legal articles, is referenced in numerous state and federal trial court and appellate court opinions. Kenny is also responsible for keeping Willis Towers Watson associates, clients and prospects current on the legal, regulatory and financial trends in the industry, planning and producing the annual Managed Care Roundtable and communicating with the industry via social media.
Education and Credentials
Kenny maintains his licenses to practice law in multiple federal and state jurisdictions. He serves in a leadership role related to managed care and insurance in the Health Law Section of the American Bar Association and is a member of the American Health Lawyer Association. He is AV rated by his peers and was recognized as a Super Lawyer and Top Lawyer in Health Law when in private practice. He holds multiple degrees from Samford University where he graduated Summa Cum Laude. He graduated with honors from Cumberland School of Law and a law. He served as a law clerk to United States District Court Judge James Hancock following law school before moving to South Florida to begin his private practice.
Bruce Whitmore
Senior Consultant, Global Captive and Health Care Practices, Willis Towers Watson
Relevant Experience/Specialization
During his career, Bruce has developed a wide range of captive and commercial insurance solutions for hospitals, physicians, healthcare facilities and miscellaneous healthcare professionals. Bruce has also created numerous offshore and onshore single-parent and group captives. Bruce has been responsible for managing captive service provider relationships including fronting, reinsurance, actuarial, claims management, brokerage, offshore management, banking, and accounting. Recently, Bruce has been involved in developing:
A Risk Retention Group (RRG) independent physicians affiliated with a large, quasi-governmental academic healthcare system
A single-parent (pure) captive for a regional healthcare system in the upper Midwest
A fronted captive program for a healthcare system in the Northeast U.S.
A fronted group captive for physician practices
Bruce is a regular speaker at industry events including ASHRM, SCCIA, CICA, NRRA and the Cayman Captive Forum. In addition, Bruce was selected to be a panellist for a professionally filmed & broadcasted webinar produced by A.M. Best entitled ""Risk Experts Review the Current State of Health Care Captives". Bruce also authors numerous industry publications.
Role at Willis Towers Watson
Bruce serves as Subsector Leader for physician risks in the National Health Care Practice and as a Senior Consultant in the Global Captive Practice. Bruce provides resources to Willis Towers Watson professionals regarding healthcare risks and also provides captive consultancy in support of captive strategies.
Kim Wilkerson
Senior Vice President, Regional Head of Claims, XL Catlin
Kim Wilkerson is Senior Vice President, Regional Head of Claims for XL Catlin's Insurance operations in Bermuda. Kim joined XL Group in Bermuda in 2007 and served as General Counsel of XL Insurance (Bermuda) Ltd before transitioning into the claims role in 2015.
She has 30 years of experience in the insurance industry, including 15 years in the brokerage area. In addition to holding the Chartered Property & Casualty Underwriters (CPCU) designation, Kim is admitted as a Barrister & Attorney in England & Wales and Bermuda, and is an Associate of the Chartered Institute of Arbitrators.
During her career, Kim has worked in both Bermuda and London where she provided legal services for XL's Lloyds syndicates.
Kim is a Contributing Author to "The Law of Reinsurance in England & Wales" 2nd & 3rd Editions. She has written articles for Bermuda Insurance publications and has spoken at industry events such as RIMS, the Bermuda Captive Conference, Claims Litigation Management Association and Bermuda Insurance Market Conferences.
Kim was appointed a Justice of the Peace by His Excellency the Governor of Bermuda in November 2008. She is the Chairperson for youth drug prevention charity, PRIDE Bermuda, and also serves on the Board of Governors for the Cap-A-Laige Trust, and served as Deputy Chair of the Bermuda Board of Education until September 2015.
In 2014, Ms. Wilkerson was one of 25 women selected out of more than 400 industry professionals nominated from around the world to appear on Business Insurance's 'Women to Watch' List.
In February 2016, Kim was appointed to Bermuda's Senate where she serves as Opposition spokesperson for Economic Development, Human Affairs and the Environment.
Chris Wojciechowski
Associate Director – Treaty Reinsurance, Aon Benfield U.S.
Chris Wojciechowski is a Chicago-based Treaty Reinsurance broker and a member of the Medical Professional Liability and Credit and Mortgage Guaranty Practice Groups at Aon Benfield.
He has nearly a decade of experience as a reinsurance broker and as a Corporate Development executive with a large U.S. MPL carrier.
Chris graduated with a B.A. in Economics and Math from Wabash College. His hobbies include running, skiing and the bass guitar.
Amy Wolfinger
Healthcare Broker, Aon Bermuda
Amy Wolfinger is a senior member of the Healthcare team at Aon Bermuda. She manages a portfolio of healthcare risks placed into the Bermuda market including for profit and not for profit multi-hospital systems, academic medical centers, long term care, assisted living, physician groups, managed care companies, laboratories and life science companies. Amy has extensive experience working with Healthcare captives, crafting unique (re)insurance solutions, and is an expert on the Bermuda Integrated Occurrence form. She has over 15 years' insurance experience, holds the CPCU and ARM designations, and a BS from Clemson University.
---
For more information, please contact: email@BermudaHealthcareForum.com